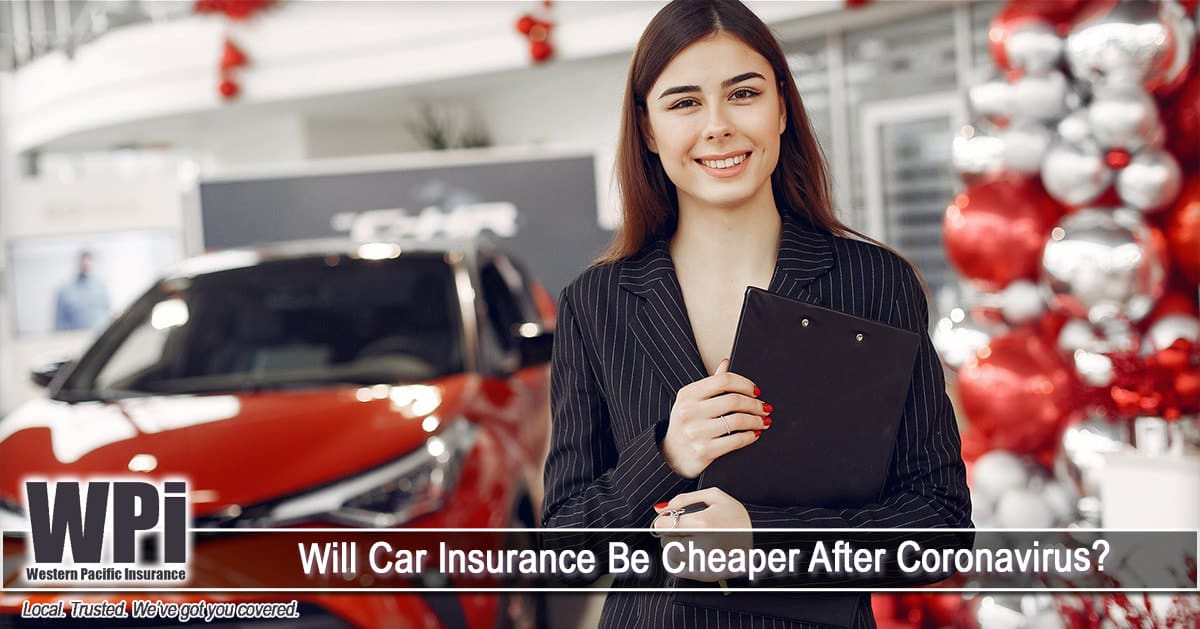 We all know that the trend for car insurance is to go up over time….but what about after the pandemic is over? Will rates stabilize or actually go down?
There's certainly an argument for less traffic having been on the road during the early months of government shutdown. Depending on your city and state, you may have seen no difference at all in traffic, meanwhile other areas were drastically affected. Does this mean rates should go down? Not necessarily.
For one, it's estimated the insurance companies will be returning more than $14 billion in premium back to their insureds. Yes, BILLION with a B. 
Car insurance is an important form of financial protection that helps you when you're in an accident and found liable for damage…and even can help if your vehicle is stolen or damaged (please speak with your WPi licensed agent to ensure you get all the coverage you want and deserve).
We're in a global pandemic and with mandatory closings, it's pretty common to wonder about how you're affected car insurance-wise. Should you stop insuring your vehicle? The short answer is "no" but depending on your situation you may have thoughts about scaling back your coverage. Before you consider scaling back coverage, remember that the insurance is in place, first and foremost, to provide YOU financial assistance when there's a loss.
Instead of dropping coverage, it might be a more prudent decision to raise your deductible. Only do a deductible you can afford, but if you're moving from a $500 to a $2500 deductible it can be really surprising how much you save monthly on your car insurance.
Is my car insurance premium going to change during the pandemic?
It's not likely that your insurance rate will go up or down drastically during this global coronavirus pandemic. Any changes in premium will be based on your insurance carrier's risk assessment, as per usual. You'll still need protection, so even if you're driving less frequently the level of protection you decided on with your licensed agent shouldn't be dropped. If you haven't reviewed your car insurance coverage levels for more than a year, it's time to review with your licensed agent. It may sound counterintuitive, but many people are increasing their insurance levels right now – this is because they've had more time during the pandemic to think about what they can lose financially if a devastating claim were to happen.
Don't be the person who hasn't increased their insurance levels since you were a college student. Most people in college do not have significant assets to lose and often choose bare minimum coverages ("state minimums") which is NOT sufficient for someone who owns a home. You stand to lose way too much, and during this pandemic it's a time we need to use clear thinking to keep ourselves and our loved ones protected. We always recommend purchasing the coverage that you can afford.
How to contact your WPi licensed agent during the coronavirus outbreak
We haven't stopped working for YOU! Every employee of ours did begin to work remotely for a period, but not one person was told to cut hours. We want to make sure we're available to all of our clients and help out new customers as well, although we do not have open doors to the public. We're working inside (haha, we promise!) and if you want a face-to-face, please ask our agent about setting up a live face to face video call.
Additionally, to streamline service requests (small changes you need to make) we recommend that you use our Policy Change Request portal. You can update mortgagee information, add a driver, and increase coverages with a few clicks!
We've maintained our normal operating hours through the COVID-19 pandemic to assist you during these challenging times. Please reach out to one of our licensed agents today at 702-932-3105 and we'll be delighted to serve you.