You've moved into your new home and want to make it your own, or perhaps you've been there for years and can no longer stand the poor aesthetic of the laundry room- it needs a change. Should you hire a contractor to do the renovations or take matters into your own hands? Hiring a contractor may be convenient or necessary in some cases, but it can also be costly. There is a unique sense of fulfillment that can be found when you do your own home projects. We've consulted one of our clients, Ashley, who has recently undertaken several home improvement projects in her Las Vegas home. We are excited to share some tips for your DIY home projects. You won't want to miss these before and after pictures!
Laundry Room
Who said a laundry room has to be boring? See how a plain laundry room can be transformed into a creative masterpiece by adding some shelves, wall patterns, and decorations. If you decide to paint an accent wall like Ashley did, make sure to write down or take a picture of the paint brand and color you use, in case you end up needing more. Some of the paint brands have similar names but are different colors. Places like Lowe's and Home Depot have color codes and will color match if you ask.
Before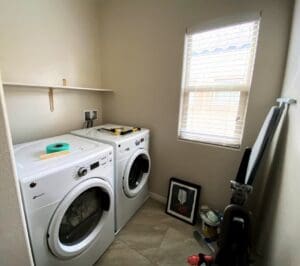 After
Dining Room
Do you want to add some subtle ambiance to a room? Try changing out an old light fixture for something more elegant and modern like Ashley did in her kitchen. A little change can go a long way.
 Before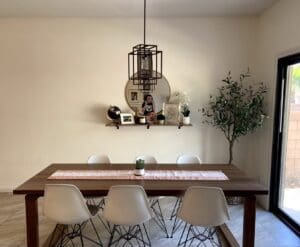 After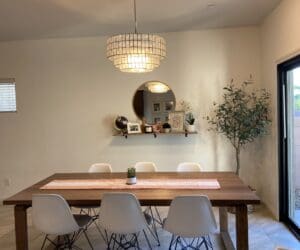 Master Bathroom
Mood boards can be helpful in the home designing process. It gives you a good idea of what you like and how everything will fit together. You can make one on Pinterest, or just print pictures and put them together on a poster. Even if you don't end up using everything on the board, it is helpful to refer back to when making decisions. Here's an example: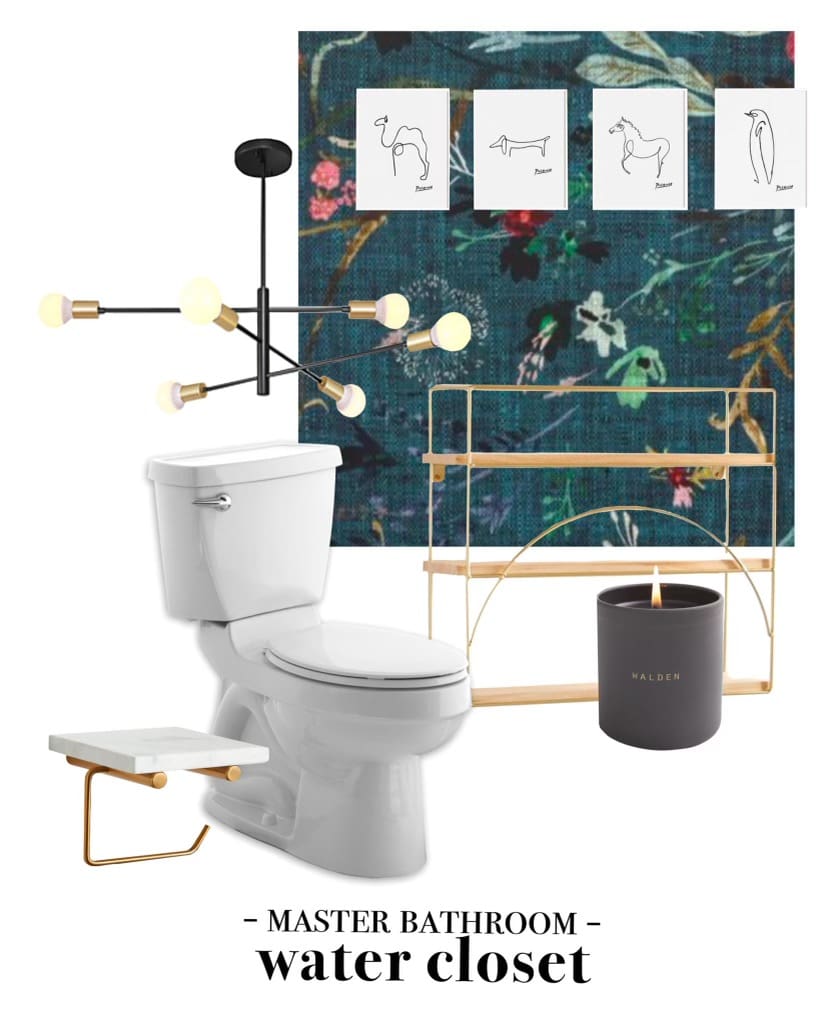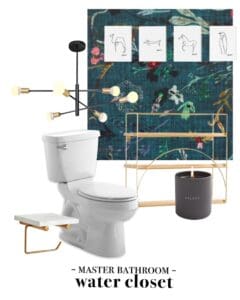 Before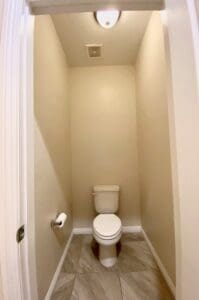 After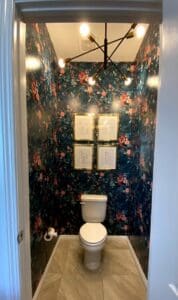 Small spaces, such as the bathroom, are a great place to go bold without committing too long-term. Additionally, dark colors like this wallpaper can blur the corners of the room and make it look bigger.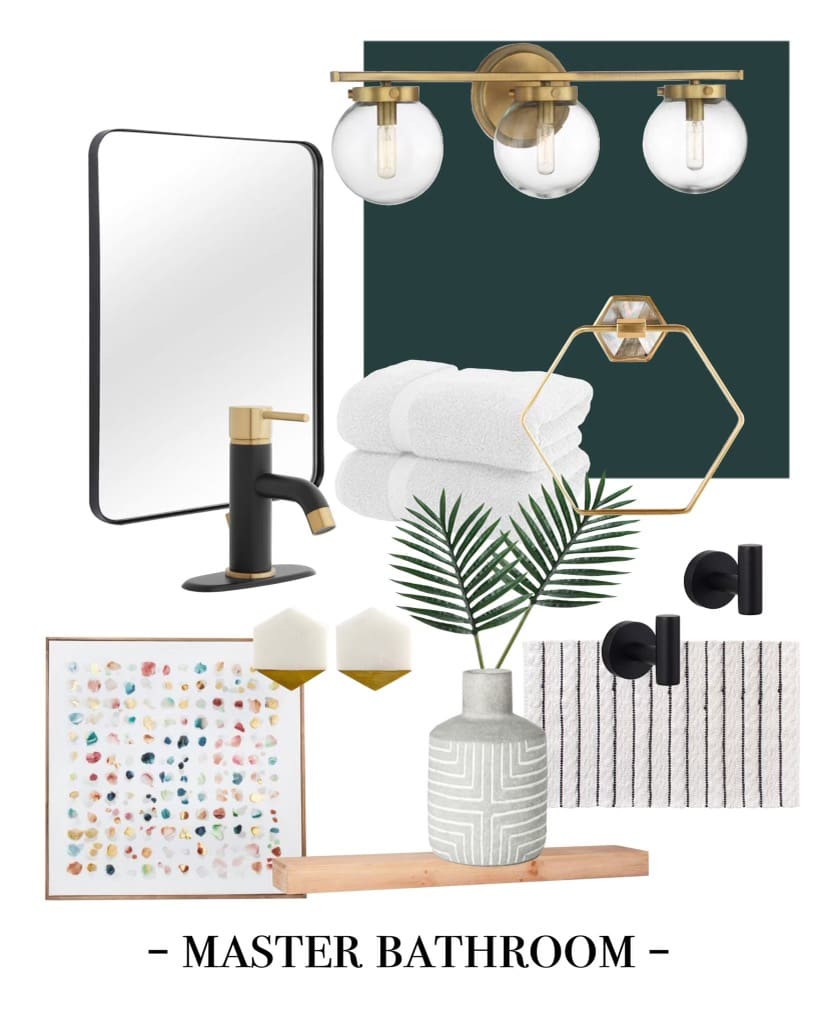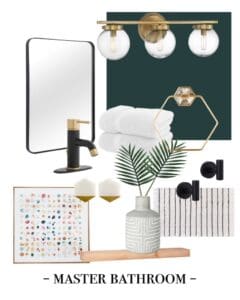 Ashley changed out the faucets, light fixtures, and mirrors in her bathroom to give it a modern twist. She also added knobs to the cabinets and a hand towel hanger.
Before

After

Remember to check you area's building codes when doing home renovations. For example, these bathroom light fixtures had to be done without using a daisy chain, which is a type of wiring where multiple devices are wired together. If you violate a code, it could be a problem later on when you sell the home. It's better to avoid the problem in the first place.
Hallway
Now for some hallway magic! Ashley painted the front door a soft blue and added a new light fixture to give some more life to this corner of the house.
Before
After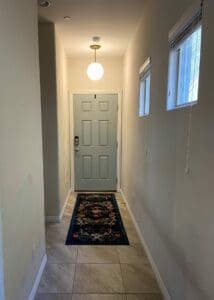 Master Bedroom
Bedrooms are a great place to hang art. You can use tape or wrapping paper for identifying the size and location you would like to fill (as shown below) before purchasing the frame and art piece.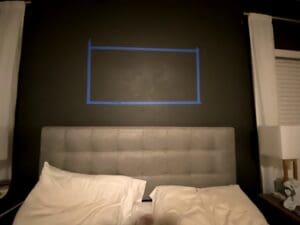 When putting up curtains, be sure to hang them high and wide. This will make the windows look bigger.
Before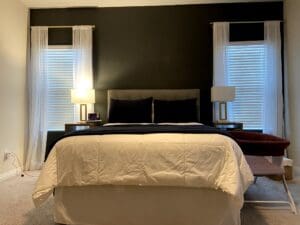 After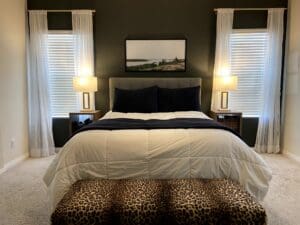 Office
Ashley used basic pre-fabricated cabinets from Lowe's for the office, but made them look custom by putting trim around the bottom edge. The hardware in your home makes a huge difference. It is the "jewelry" of a project. If you feel like your cabinets and drawers are outdated, changing out the hardware is an easy and relatively small fix compared to painting or replacing the cabinets.
The shelves in the office were created with standard pieces of wood straight off the shelves at Lowe's. They will cut the wood for you there, just make sure you have a precise measurement and double check it before you leave. Wooden shelves can be stained any color of your preference.
Before 
After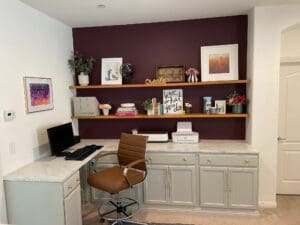 Nursery
Look at this darling, jungle-themed nursery! When putting up wallpaper like this, don't make the mistake of starting the wallpaper application all the way in the corner or straight down from the top of the wall. You will run into trouble doing this because 1) the wallpaper is probably not square and 2) your ceilings are probably not completely straight. Also, make sure the rug is large enough for the area so it looks natural and blends well with the room.
Before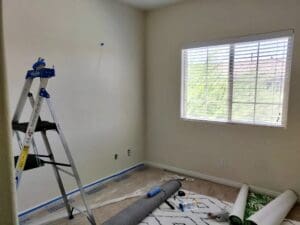 After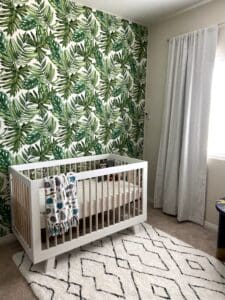 Living Room
Last but not least- the living room. Add some color here (if you're into that)! Adding color accents really brightened up Ashley's living room. Also, when you first move into your home, the light bulbs throughout the home may be mismatched and not very bright. Changing all of the light bulbs to be uniform and the level of brightness you like can make a big difference.
Before (previous homeowners)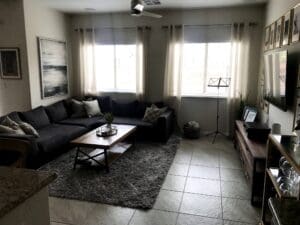 After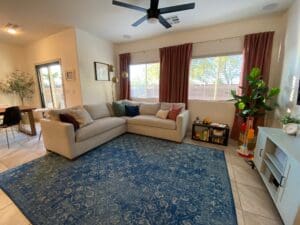 If you're tired of your furniture, but aren't ready to purchase an entirely new piece, consider painting or staining it. That might be just what you need to liven things up.
Before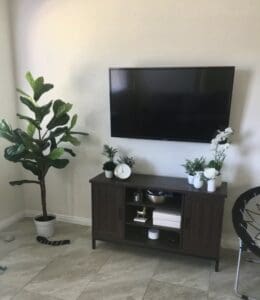 After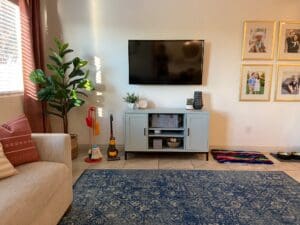 That completes this home tour! Do you have questions about DIY home renovations or protecting your home with insurance? Message us on Facebook or Instagram @wpinsure – we'd love to hear from you!